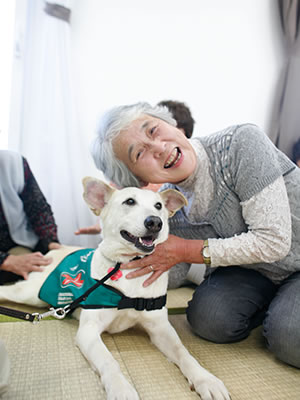 Thank you for your warm support.
At the International Therapy Dog Association,
Rescue of abandoned dogs on the verge of slaughter and disaster-affected dogs
Nurturing into a therapy dog
Therapy dog activities in the field of social welfare
Until the last care of the dogs who retired from active duty ...
We consistently carry out with the best medical care.
Therefore, a large amount of money is required for the life of one therapy dog.
We ask for your warm support and cooperation.
With the power of many ales received from dog lovers and cat lovers nationwide,
We will continue to move forward to realize the "abolition of culling" of abandoned dogs and cats.
Note: Our association does not raise funds on the streets in front of stations. There are some organizations that use the names of our association and Oki to raise funds, but please note that there is no relationship between our association and Oki.
What you can do with your support
(reference example)
Annual rabies vaccination
(for one animal) Approximately
About 3,000 yen
8 kinds of mixed vaccination
(for 1 medium-sized dog) Approximately
About 8,000 yen
Drug cost for chronic renal failure (early stage)
(for one month for medium-sized dogs) Approximately
About 10,000 yen
Ophthalmic examination for chronic eye diseases and eye drops
(for one month for large dogs) Approximately
About 20,000 yen
Health checkup for one medium-sized dog
(blood test, X-ray, ultrasound) Approximately
About 30,000 yen
Flea and tick extermination for one month
(for 25 animals) Approximately
About 60,000 yen
Eye disease surgery
(surgery) Approximately
About 250,000 yen~
e_t_c_…